(Insights into the World on July 29, 2002- The Daily Yomiuri )
---
I hope Japan team's success and received high praises have given a ray of hope and encouragement to the Japanese people, who have lost confidence lately.
I think 2002 World Cup Korea/Japan was very meaningful for Japan in the sense that Japan's national was recognized worldwide.
During the 1990s called "Lost Decade," foreign presses seemed to be many negative outlook against Japan.
But Japanese cheering supporters in the World Cup games surprised many foreign presses, and their behavior was highly praised.
Foreign presses said "The Japanese are polite, and friendly to foreign teams as well as Japan team," for example.
Yomiuri Simbun reported that British presses, in particular, said, "Japanese behavior has been a good effect on the supporters of the other nations; for example, taking photos and talking with an opponent's supporters in various venues. It is almost impossible situation in Europe. Hooligans have no role to play."
The Financial Times also highly praised, "The Japanese brought the World Cup to fertilize by a fever without hatred."
So I would like to introduce The Guardian's Special report "Blake Morrison on his five days at the World Cup"
The beginning of this report is: "Good food, high living standards, low crime figures, clean toilets, smiling hospitality, a wonderful public transport system - Japan begins to seem the ideal venue for the World Cup."
Now, why don't you visit Japan?
---
Japan could be drawing the closest it has ever come to transcending the constraints of nationalism.
How the Japanese behaved during the 2002 soccer World Cup finals presented a showcase for this phenomenon.
At first glance, the outside observer could be forgiven for thinking a resurgence in Japanese nationalism was happening.
The tens of thousands of Japanese fans who packed the stadiums where the Japanese team played sported headbands featuring the rising-sun emblem and kanji characters reading "Unfailing Victory," as they shouted, "Nippon! Nippon!"
A closer look, however, revealed that the youths, who accounted for a great majority of the spectators, mostly had hair dyed light brown, orange or other colors, and earrings glinted from their pierced ears.
To cheer on the players, they chanted, "Ole" and sang the march from Verdi's " Aida."
---
Novel naivete
Foreign reporters in Japan covering the World Cup finals were surprised to see the jerseys of various foreign countries on sale on the street and many Japanese spectators clad in the jerseys, rooting unaffectedly for their favorite foreign teams.
Most highly sought after were jerseys bearing the name of England star David Beckham, which sold for as much as 7,000 yen each.
A young Englishman said he earned money to buy tickets to the matches as well as for living expenses during his stay in Japan by selling England jerseys adding, "This is just unimaginable in any other country than Japan."
---
Highly Praised Japan Japan by British Press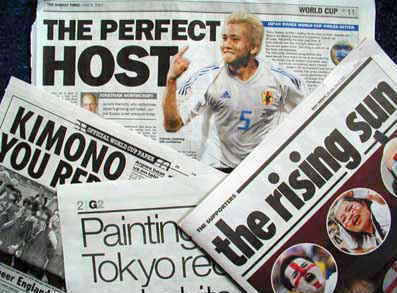 ---
Foreign journalists were especially unprepared to see several thousand Japanese spectators at the England and Denmark match in Niigata in England's white-and-red jerseys, earnestly cheering on England, despite the possibility of England being pitted against Japan in the semifinals.
One Yugoslav reporter found the "naivete" of the Japanese spectators truly astounding, while the head of an England supporters association was "really touched."
When Japan lost to Turkey in the second round, residents of a small town in Wakayama Prefecture hailed the result.
The town has had a long friendship with Turkey. In 1890, about 200 townspeople rescued men on a Turkish warship that was wrecked in waters off the town.
On the day of the Japan-Turkey match, a television program showed the town's children having the Turkish flag painted on their cheeks and women in Turkish folk costumes chatting with an interviewer.
One exuberant middle-aged woman remarked: "Japan is my mother, while Turkey is my lover.
It's only natural for me to support my lover instead of my mother."
Thanks largely to such an amicable atmosphere, the 2002 World Cup finals came to what must have been one of the calmest conclusions of the Cup's history.
Japanese youths committed no acts of vandalism.
In addition, there were no reports of foreign soccer supporters coming to blows.
Such calm owes itself partly to the effective anti-hooligan measures taken by the police.
The smooth sailing, however, can be better understood as the result of the prevalence of a mood among the Japanese public that was completely lacking in nationalism during the finals - a rarity in World Cup history.
Key factors behind this mind-set may be soccer's relative newness in Japan and the youthful average age of soccer fans.
Unlike Olympic events, since its introduction to this country, soccer has been a sport notably free from nationalistic associations.
Indeed, a French coach, Phillipe Troussier led Japan's side, many of its players belong to professional teams in Europe, and the team included a player from Brazil who had been naturalized.
The Japanese public sees soccer players' feats as praiseworthy simply for their individuality - that is, soccer in Japan is generally taken as a symbol of individualism, as opposed to many other sports that smack of collectivism.
Such being the case, although under FIFA rules World Cup matches take the form of country-to-country competitions, most Japanese spectators seemed to have little interest in viewing them that way.
Possibly Japanese Cup spectators were amusing themselves with a kind of "patriotic drama," well aware that what is often referred to as a nation's solidarity is nothing more than a theatrical conceit.
A newspaper article quoted a company employee as saying, "It's more fun to watch the matches when you take one team's side.
" He went on to say he changed his jersey according to the match and sat with the bloc of supporters wearing the same jersey.
The rising-sun headbands and the "Unfailing Victory" slogan can be seen as props in the drama in the manner of the jerseys cited by the company employee.
That a sport has fascinated the Japanese to the extent of leading them to parody nationalism is profound indeed.
---
Japan's national cool
"Japan's Gross National Cool," an article by Douglas McGray in the May/June issue of the U.S. bimonthly magazine Foreign Policy, goes beyond the usual stereotypes about Japan and focuses on a promising trend that seems to support Japan's non-nationalistic tendency.
McGray concedes that years of recession and political turmoil have plagued Japan, but notes that these conditions are far from a complete definition of what Japan is today.
Although not necessarily in a blatant way, Japan is on the offensive in the sphere of culture, he says.
McGray says what he calls "Japanese cool," ranging from pop music to consumer electronics, architecture to fashion, and animation to cuisine, has been blossoming and spreading abroad.
Just as Japanese management techniques led the nation to economic triumph during the Cold War era, while it remained weak in international diplomacy, Japan has begun to emanate its cultural influence globally, albeit quietly, he says.
Signs of Japan's rise as a cultural superpower are not yet conspicuous, McGray points out, just as was the case during the initial stage of its ascendancy to economic power, when the Japanese themselves were little aware of what the economic expansion really meant.
While manga, or Japanese comic books, are the most prominent among Japan's youth culture icons, the cartoon and video game franchise Pokemon has been translated into more than 30 languages and broadcast in 65 countries.
In another example, Sanrio Co.'s Hello Kitty character earns almost $1 billion in global sales per year with Sanrio-licensed products bearing Hello Kitty's likeness numbering as many as 15,000, according to McGray.
---
International fashion mecca
Meanwhile, Mandarake Inc., a major secondhand manga and animation video retail chain, has been making inroads overseas, opening stores in the United States and Italy.
Japanese pop music as well as Tokyo fashions and a large variety of women's lifestyle magazines are coveted throughout Asia.
McGray quotes The New York Times style editor as pronouncing Tokyo the "real international capital of fashion," spurning Paris, New York and Milan as pretenders.
In the film world, such prodigies as director and actor Takeshi Kitano and animation feature producer Hayao Miyazaki have won prizes in film festivals in Europe, while several recent Hollywood films and U.S. TV dramas have drawn heavily on Japanese animation, McGray says.
Last year, the Getty Center in Los Angeles had a blockbuster show on the Super Flat art movement, which he says was launched by young Japanese artists inspired by the two-dimensional look of commercial cartoons.
Generally speaking, Japan "has far greater cultural influence now than it did in the 1980s, when it was an economic superpower," McGray writes.
What matters here is that Japan's emerging cultural appeal has hardly any direct link with things traditionally Japanese.
Manga, Tokyo fashions and J-Pop are hardly connected with traditional Japan, nor is the Super Flat movement something related directly to what is considered traditionally Japanese, although it is indisputably a product of Japan.
As for Hello Kitty, McGray was astonished to learn that the cartoon cat's full name, announced by Sanrio for the first time last year, is Kitty White. "Kitty White? Kitty is a WASP!" he writes.
This lack of a national consciousness is peculiar to the burgeoning cultural trend and stands in stark contrast to the patriotism of French culture.
It also is singular even seen next to U.S. culture, which has long prided itself on its universality.
---
Universal words needed
There is no denying that U.S. culture, however universal its basest forms supposedly are, tends to reflect certain inherent U.S. values-U.S.-style capitalism and individualism.
In contrast, Japan's "national cool" has no trace of any philosophy or dogma.
Today's Japanese culture, therefore, seems like a miscellany of charming items, at times reflecting the contradictory values of a nation in flux.
In his commentary, McGray seems to be somewhat at a loss as to how to evaluate this.
This cosmopolitan slant, however, can be called a respectable trait of Japan's national character, as long as it is not a mere form of profit-first commercialism, but an embodiment of a sensibility shared by a majority of Japanese.
Judging by the World Cup finals, Japan's cosmopolitanism is most likely something authentic.
What the Japanese need to do now, so McGray can feel at ease, is to come up with a way to explain ourselves objectively on our own terms.
To sum up, the Japanese must put forward logical and universal words to explain Japan's national cool and persuade the rest of the world that Japanese cool, though at first glance seeming a mere jumble, does represent a sense of intrinsic values, rather than insisting the Japanese character is an enigma to outsiders.
---

[Kissinger's report - Cup shows global power shift]