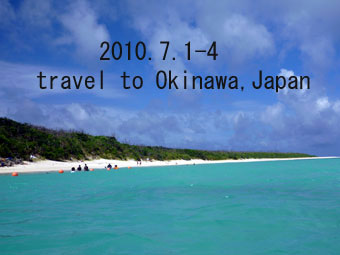 ---
Hateruma Ferry
Anei Tours
one way: 3,050JPY
round trip: 5,800JPY
one way: 3,000JPY
round trip: 5,750JPY
High Speed Ferry
"New Hateruma"
Ordinary
(Tue, Thu, Sat)
No. 1
No. 2
No. 3
No. 1
No. 2
No. 3
Ishigaki
8:20
12:00
15:30
9:00
8:30
11:50
15:30
Hateruma
9:20
13:00
16:30
11:00
9:30
12:50
16:30
Hateruma
9:35
13:15
16:45
15:00
9:40
13:10
16:40
Ishigaki
10:35
14:15
17:45
17:00
10:40
14:10
17:40
---
snorkeling in Nishihama Beach, Hateruma Island

This island is the southernmost part of Japan. It is said that Nishihama is the best beach within Yaeyama islands, southwest of Okinawa prefecture. For exploring the island, you can rent a motorbike or bicycle by merchants who are waiting the port. Among them I recommend Kumanomi because it is near Nishihama beach and Hateruma port.
---
---
water buffalo taxi ride through the village in the island

This island is very popular with day-trippers from Ishigaki, as its magnificent beaches virtually surround the island. Ferries between Ishigaki and Taketomi run frequently during the daytime. They are operated by Yaeyama Ferry, Anei Tours and Ishigaki Dream Tours.
[Back to the page of Ishigaki Island on July 1, 2010]
[Go to the page of Syuri Castle at Naha and Off-line meeting of World Investors on July 3, 2010]
[Go to the page of Gyokusendo Cave on July 4, 2010]