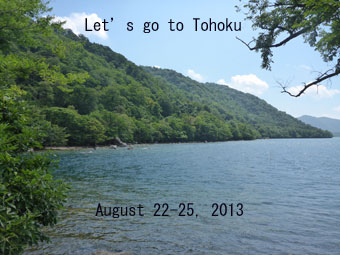 Travel Agency
JTB (JAPANiCAN.com)
Date
Itinerary
Lodging
8/22(Thu)
Ueno 21:16-sleeper limited express "Akebono"-6:38+ Akita
(on the train)
23(Fri)
having breakfast in Akita Shimin Ichiba (Akita Civil Market)
Akita 8:25-rapid "Resort Shirakami No. 1"-10:35 Wespa Tsubakiyama
relaxing in Furofushi (amrit) Hot Spring
Wespa Tsubakiyama 13:14-rapid "Resort Shirakami No.3"-15:52 Hirosaki
sightseeing in Hirosaki by chartered taxi
Hirosaki 17:28-18:10 Aomori
off-line meeting in Aomori
JAL City Aomori
6,900JPY
24(Sat)
Aomori 7:09-7:13 Shin-Aomori 7:34-Shinkansen "Hayate No.24"-8:01 Hachinohe
Hachinohe 9:00-JR Bus Tohoku "Oirase No.21"-11:00 Nenokuchi
exploring in Lake Towada and Oirase Trail
Kumoi Waterfall 12:25-JR Bus Tohoku "Oirase No.22"-14:15 Hachinohe
Hachinohe 15:06-Shinkansen "Hayabusa No.12"-16:30 Sendai
party at Japanese-style Inn "Yamaboshi" in Izumigatake Hot Spring
Yamaboshi
14,700JPY
25(Sun)
exploring in Matsushima
Sendai 16:02-rapid "Sendai City Rapid No.6"-17:16 Fukushima 17:27-Shinkansen "Yamabiko and Tsubasa No.150"-19:04 Tokyo
-
note
Some of above links have Japanese information only. For foreign travelers, please visit the following web sites.
---
---
JR sleeper limited express train "Akebono"
[Go to the page of JR Gono Line, Furofushi Hot Spring and Hirosaki on August 23, 2013]
[Go to the page of Lake Towada and Oirase Trail on August 24, 2013]
[Go to the page of Matsushima on August 25, 2013]
[Go to the page of watching the baseball game that Masahiro Tanaka marks 20 consecutive wins on September 6, 2013]