For Americans, September 11th is probably unfadable in their mind during a lifetime.
Moreover, a memorial mass will have been performed every September 11th, and the US media will must have reported the news in order not to fade blue memories away.
It is undoubted fact that many unrelated people are killed by terror, and then it cause fierce sorrow and anger.
After terror, many newspapers placed victims' photos and gave banner headlines to articles with sorrow, while I found the article "Different World - Palestinians show joy at news of terror in the US" in the same paper like articles of GAMLA ONLINE.
Terror didn't occur suddenly.
There was the far side of it.
---
Attack on World Trade Center (CNN)

| | |
| --- | --- |
| | |
| | |
Americans seem to have hardly interested in what they and their own country come into disfavor more than they can imagine.
I think many people are bitter about American fundamental principle "Winner takes all" that power is justice, and a victory has priority over all.
As American standard named global standard, which is widespread around the world, it may cause repulsion for the United States.
The United States is certainly economic dynamos; hence, many people hope for success.
But the humility lacked strong is only haughty.
According to Mr. Nobuhiko Ochiai, an Japanese international journalist, former greatest president John Fitzgerald Kennedy said as following even after Cuban Missile Crisis of 1962.
So, let us not be blind to our differences - but let us also direct attention to our common interests and to the means by which those differences can be resolved. And if we cannot end now our differences, at least we can help make the world safe diversity. For, in the final analysis, our most basic common link is that we all inhabit this small planet. We all breathe the same air. We all cherish our children's future. And we are all mortal.
Far be it from me to say all people, but if at least one of western leaders, including the US presidents who assumed after the 1989 fall of the Berlin Wall said such a comment to Arab states, the world might have been different from now.

By Jonathan Steele, Ewen MacAskill, Richard Norton-Taylor and Ed Harriman on Saturday September 22, 2001
---
Osama bin Laden and the Taliban received threats of possible American military strikes against them two months before the terrorist assaults on New York and Washington, which were allegedly masterminded by the Saudi-born fundamentalist, a Guardian investigation has established.
The threats of war unless the Taliban surrendered Osama bin Laden were passed to the regime in Afghanistan by the Pakistani government, senior diplomatic sources revealed yesterday.
---
The Taliban refused to comply but the serious nature of what they were told raises the possibility that Bin Laden, far from launching the attacks on the World Trade Centre in New York and the Pentagon out of the blue 10 days ago, was launching a pre-emptive strike in response to what he saw as US threats.
The warning to the Taliban originated at a four-day meeting of senior Americans, Russians, Iranians and Pakistanis at a hotel in Berlin in mid-July.
The conference, the third in a series dubbed "brainstorming on Afghanistan", was part of a classic diplomatic device known as "track two".
It was designed to offer a free and open-ended forum for governments to pass messages and sound out each other's thinking.
Participants were experts with long diplomatic experience of the region who were no longer government officials but had close links with their governments.
---
"The Americans indicated to us that in case the Taliban does not behave and in case Pakistan also doesn't help us to influence the Taliban, then the United States would be left with no option but to take an overt action against Afghanistan," said Niaz Naik, a former foreign minister of Pakistan, who was at the meeting.
"I told the Pakistani government, who informed the Taliban via our foreign office and the Taliban ambassador here."
The three Americans at the Berlin meeting were Tom Simons, a former US ambassador to Pakistan, Karl "Rick" Inderfurth, a former assistant secretary of state for south Asian affairs, and Lee Coldren, who headed the office of Pakistan, Afghan and Bangladesh affairs in the state department until 1997.
---
According to Mr Naik, the Americans raised the issue of an attack on Afghanistan at one of the full sessions of the conference, convened by Francesc Vendrell, a Spanish diplomat who serves as the UN secretary general's special representative on Afghanistan.
In the break afterwards, Mr Naik told the Guardian yesterday, he asked Mr Simons why the attack should be more successful than Bill Clinton's missile strikes on Afghanistan in 1998, which caused 20 deaths but missed Bin Laden.
"He said this time they were very sure. They had all the intelligence and would not miss him this time. It would be aerial action, maybe helicopter gunships, and not only overt, but from very close proximity to Afghanistan. The Russians were listening to the conversation but not participating."
Asked whether he could be sure that the Americans were passing ideas from the Bush administration rather than their own views, Mr Naik said yesterday: "What the Americans indicated to us was perhaps based on official instructions. They were very senior people. Even in 'track two' people are very careful about what they say and don't say."
In the room at the time were not only the Americans, Russians and Pakistanis but also a team from Iran headed by Saeed Rajai Khorassani, a former Iranian envoy to the UN.
Three Pakistani generals, one still on active service, attended the conference.
Giving further evidence of the fact that the Berlin meeting was designed to influence governments, the UN invited official representatives of both the Taliban government in Kabul and the anti-Taliban Northern Alliance.
Dr Abdullah Abdullah, the Northern Alliance's foreign minister, attended.
The Taliban declined to send a representative.
The Pakistani government took the US talk of possible strikes seriously enough to pass it on to the Taliban.
Pakistan is one of only three governments to recognise the Taliban.
---
Mr Coldren confirmed the broad outline of the American position at the Berlin meeting yesterday. "I think there was some discussion of the fact that the United States was so disgusted with the Taliban that they might be considering some military action."
The three former US diplomats "based our discussion on hearsay from US officials", he said.
It was not an agenda item at the meeting "but was mentioned just in passing".
Nikolai Kozyrev, Moscow's former special envoy on Afghanistan and one of the Russians in Berlin, would not confirm the contents of the US conversations, but said: "Maybe they had some discussions in the corridor. I don't exclude such a possibility."
Mr Naik's recollection is that "we had the impression Russians were trying to tell the Americans that the threat of the use of force is sometimes more effective than force itself".
---
The Berlin conference was the third convened since November last year by Mr Vendrell.
As a UN meeting, its official agenda was confined to trying to find a negotiated solution to the civil war in Afghanistan, ending terrorism and heroin trafficking, and discussing humanitarian aid.
Mr Simons denied having said anything about detailed operations.
"I've known Niaz Naik and considered him a friend for years. He's an honourable diplomat. I didn't say anything like that and didn't hear anyone else say anything like that. We were clear that feeling in Washington was strong, and that military action was one of the options down the road. But details, I don't know where they came from."
The US was reassessing its Afghan policy under the new Bush administration at the time of the July meeting, according to Mr Simons.
"It was clear that the trend of US government policy was widening. People should worry, Taliban, Bin Laden ought to worry - but the drift of US policy was to get away from single issue, from concentrating on Bin Laden as under Clinton, and get broader."
Mr Inderfurth said: "There was no suggestion for military force to be used. What we discussed was the need for a comprehensive political settlement to bring an end to the war in Afghanistan, that has been going on for two decades, and has been doing so much damage."
The Foreign Office confirmed the significance of the Berlin discussions.
"The meeting was a bringing together of Afghan factions and some interested states and we received reports from several participants, including the UN," it said.
Asked if he was surprised that the American participants were denying the details they mentioned in Berlin, Mr Naik said last night: "I'm a little surprised but maybe they feel they shouldn't have told us anything in advance now we have had these tragic events".
Russia's president Vladimir Putin said in an interview released yesterday that he had warned the Clinton administration about the dangers posed by Bin Laden.
"Washington's reaction at the time really amazed me. They shrugged their shoulders and said matter-of-factly: 'We can't do anything because the Taliban does not want to turn him over'."

Cynically, attack on US brought the demise of Taliban administration.
Afghanistan had been what is called "abandoned country from the world community" by Mrs. Sadako Ogata, Co-Chair of the Commission on Human Security, and former the United Nations High Commissioner for Refugees.
It is quirk of fate that Afghanistan was spotlighted in world politics by attack on US by Osama bin Laden, and then the fundamentalist Islamic administration got kicked out of Afghanistan.
But there is no predicting that whether Afghanistan become peaceful and stable country in the future.
Because Northern Alliance, which was one of driving force behind the demise of Taliban administration, is not always gentlemanly group in the light of Afghan history.
Otherwise, it is said that Taliban didn't come into existence.
Finally, I would like to say that United States and former Soviet-bloc states mainly have been offered weapons to many countries at war.
And then foreign governments made Japan offer to some organization for clearing up their mess, for example called peacekeeping committee.
---
(CNN) Northern Alliance troops spread out across Kabul Tuesday to consolidate their control of the Afghan capital, as residents celebrated the Taliban's sudden retreat.
Taliban troops abandoned the city before dawn Tuesday and retreated south, towards their stronghold of Kandahar.
Northern Alliance Foreign Minister Abdullah Abdullah told CNN the alliance did not plan to chase Taliban troops because they did not want to stretch their army too thinly.
The occupation of Kabul was the latest in a series of military gains over the last few days that have given the opposition control of the northern half of the country.
The fall of Kabul left diplomats scrambling to form a broad-based, interim government. The Northern Alliance is made up primarily of ethnic Uzbeks and Tajiks and is viewed warily by many Pashtuns, the largest single ethnic group in Afghanistan.
A number of countries, including the United States, had urged the Northern Alliance not to take Kabul until a new government could be formed.
Abdullah said alliance troops had not planned to enter Kabul, but had no choice because "irresponsible people" with weapons were causing disturbances after the Taliban withdrawal.
Abdullah invited United Nations envoys to Kabul to help establish an interim government and called on representatives of all Afghan groups -- except the Taliban -- to participate in the process.
A small number of U.S. Special Operation troops also entered Kabul to "try to create order," U.S. Defense Secretary Donald Rumsfeld said.
U.S. Secretary of State Colin Powell told reporters Tuesday night in Washington that the Taliban may have reached "the break point," military jargon for the point at which an army cannot take any more punishment and runs away in disarray. "Maybe they have reached it; we will know in a few days," Powell said.
Another senior Bush administration offical said he understood that there was a serious fight underway for control of Kandahar, the long-time Taliban stronghold. This official said there are indications the city could fall soon.
---
(CNN) U.S. troops were fighting fleeing Taliban fighters near Kandahar as the fundamentalist Islamic movement surrendered its political and religious base on Friday.
"We have engaged forces who are leaving Kandahar with their weapons," Gen. Tommy Franks, the commander of U.S. forces in the region, said Friday.
Franks did not specify whether the U.S. troops involved were part of the Marine contingent based south of Kandahar or special operations troops working with local anti-Taliban forces. He said the troops are trying to keep the Taliban from escaping.
Franks did say, however, that U.S. Marines had been involved in several ground and air attacks, using helicopter gunships, in the previous 24 hours.
"We are blocking in some cases from the air, we are blocking in some cases with direct fire from the ground," he said. Franks, the chief of the Florida-based U.S. Central Command, said the option of sending Marines into Kandahar remains open.
Interim Afghan leader Hamid Karzai told CNN on Friday the city's fall means "Taliban authority is effectively finished." Sources described a chaotic scene in Kandahar as the Taliban withdrew.
Meanwhile, fighters looking for Osama bin Laden encountered stiff resistance near Tora Bora, in eastern Afghanistan, where he and al Qaeda members are believed to be holed up. And U.S. Navy ships in the northern Arabian sea were "querying" ships leaving Pakistani ports by radio, as part of a search for al Qaeda members trying to flee the area, Navy officials said Friday.
---
(CNN) A new interim Afghan government was sworn in Saturday in the capital, Kabul, joining together members of the country's various factions and bringing an official end to five years of Taliban rule.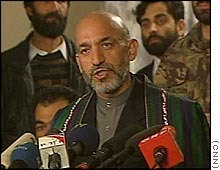 Moments after assuming chairmanship of the interim administration, Hamid Karzai stood on a stage and swore in 29 other members of his new regime.
Hundreds of people packed into the Interior Ministry hall on what Lakhdar Brahimi, U.N. special representative for Afghanistan, called a "momentous day" for the country and the world.
Outgoing President Burhanuddin Rabbani said Afghanistan was now linked with modern civilization and that he was hopeful the international attention showered on the country would help it build a bright future.
Some delegates traveling to Kabul for the installation of the interim government were in a convoy destroyed Friday night in a U.S. bombing run in eastern Afghanistan, said Yunis Qanuni, a member of the new administration.
Qanuni, who will be interior minister, said that tribal delegates were part of the convoy, which the Pentagon said was destroyed in the strike near Khost, a town southwest of Tora Bora. Qanuni called the incident "a misunderstanding."
Pentagon officials had said Friday the convoy was carrying al Qaeda or Taliban leaders. Responding to the new report Saturday, Lt. Col. Martin Compton of the U.S. Central Command said, "We are still looking into it."
---

[Back to the travelogue of Italy and Malta]