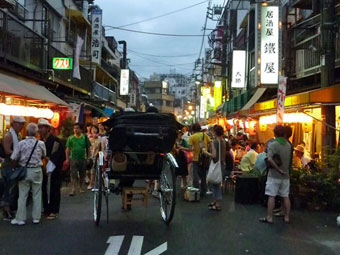 I was invited to watch Asakusa Samba Carnival 2009 by my friend, Yasu. When we arrived at Kaminarimon in Asakusa, Tokyo at 1:00 p.m, half an hour before beginning the parade, roadsides were very crowded because of barrel of galleries. As I saw columns of galleries along the roadside, I remembered Fiestas de San Fermín which I saw in 1998. Thousands of middle aged men was waiting for the parade in scorching summer, we ran together them. Though we were at the middle of the line, I tried to take a picture over front people's shoulder. What were we seen from others?

We saw the parade around an hour and a half, and then we had a break at cafe because I was likely to get sunstroke. Coming next time we must bring hat, sunscreen and bottle of water as well as sunbathing in the beach. So samba dancers were like bikini girls in overseas beaches, I think. Therefore last half parade was more spectacular than first half because first half was 8 teams in the S2 league, last half was 11 teams in the S1 league, I guess.

Samba Parade came to an end at 5:30 p.m., we went to Japanese-style bar street, so-called Asakusa-Hoppy Dori or Nikomi Dori (street).
These bars provide famous "Hoppy (cocktail of a kind)" and "Nikomi (simmered beef)" at budget prices.
Menus are written only Japanese but some attendants speak little English depend on bars.
More information about Japanese food is available from Restaurant and Bar Guide.
Please try to visit Asakusa-Hoppy Dori (street)!