I ought to have flown for Hong Kong by Cathay Pacific flight 521 at 4:25 p.m.
Why did I take a flight 505? Actually, I missed.
So I had a cheap (budget) air ticket, which was generally non-reroutable, non-refundable and non-endorsable (non-transferable) for any reason whatsoever.
Hence if cheap (budget) air ticket holders miss the flight, their all tickets are suppose to be canceled and no money will be refunded.
Though I was taking the 4:25 p.m flight, I took the train that was due at Narita station at 4:30 p.m. by confusion.
Of course a flight 521 left, ticketing counter's staff was stunned and said only that I should negotiate with travel agency on what to do.
But it was fortunate for me that travel agency opened; moreover, there was next Cathay flight on the same day and underoccupied.
And there were more two advantages: its travel agency was my favorite company, and I joined Cathay's Frequent Flier Program, Asia Miles on the eve of traveling.
Thanks to such advantages, I could fly to Hong Kong by change charge for 10,000 Yen; of course I didn't be obliged to cancel my trip or buy a normal one way ticket for next another carrier (107,300 Yen) for Hong Kong.
Lesson: Even monkeys fall from trees. So travel should begin on weekdays!

---
| | |
| --- | --- |
| | |
| Hong Kong's breakfast | HSBC Hong Kong |
---
It is said that Hong Kong is a nearest and most accessible offshore banking center from Japan.
Basically, there may be some advantages for Japanese investors: geopolitically nearby, English spoken staff, accessible Japanese assistance and so on.
And in spite of the Special Administrative Region (HKSAR) of the People's Republic of China, that is, a part of China's region, there has been a good investment environment in Hong Kong since British-ruled era.
Of course we have a risk for investing that China is NOT virtually a country under the rule of law, but there may not be so worried about it for now.
Because I think even Beijing would NOT kill a golden goose except stupid dictator.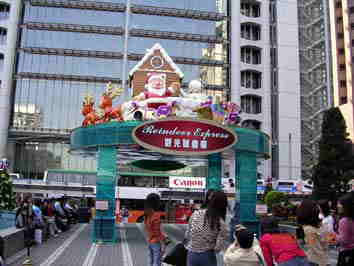 So I opened HSBC's PowerVantage Account, which is one of popular bank among Japanese investors.
Because I would like to invest to many foreign currencies, varied high-performance unit trusts and stocks in the Hong Kong Exchanges and Clearing Limited by low-cost.
For opening the account, I was required the following items by customer service officer of Direct Financial Services.
Firstly, I need to provide all the documents in order, ie, not only my passport and an introduction letter from an account holder who have an account with HSBC Hong Kong for over 1 year.
Secondly, I also need to provide proof of existing residential address within 6 months (eg utility bill, bank statement) and an initial deposit (ie. HK$10,000 or the equivalent in foreign currency. I can bring a demand draft which is drawn on a local bank in Hong Kong as your initial deposit).
Therefore she also informed me that if I maintain a monthly Total Relationship Balance (TCR) of HK$100,000, the PowerVantage Account services are free.
If I maintain a monthly TCR of HK$10,000 or above, I can enjoy the PowerVantage Account services for only HK$20 each month.
The monthly fee for a TCR below HK$10,000 is HK$60.
Please note, the TCR is the rolling average balance of the previous three months.
I went to Hong Kong and opened HSBC's PowerVantage Account at last, so I can invest funds overseas by Internet.
But I took pains to do it because I needed to speak English with HSBC's staff for many hours as a matter of course.
There seems some Japanese spoken staff in HSBC, unfortunately I didn't meet them.
When I go there next time, I'll ask him/her to come.
After opening my bank account, I came back to the hotel by Star Ferry.
At Central district, there seemed to be mainland Chinese tourists as well as once Japanese.
I think they have gotten a majority in Hong Kong visitors.
So some of them tried to talk to me, but I was pushed for time.
Because I had arranged to meet other members of the traveling circle "Soreyuke (Let's go)" at the hotel lobby at 1 p.m.
But to my wonderful thing, all members came at the last minute, right?
---
Victoria Harbour - Hong Kong side
Victoria Harbour - Kowloon side
Hong Kong sweets (Wan Loong Court)
from left: Ishikawa, Carlos, Hirosawa, Funatsu
(at Wan Loong Court)
---
Off-line meeting took place at Wan Loong Court located at the second basement of Kowloon Hotel by Mr. Ishikawa's proposal.
I left our plan to him because he and Miss Hirosawa come to Hong Kong several times.
Miss Funatsu was traveling with co-workers, to our delight, she participated it along the way.
So Mr. Ishikawa said "I always go to Hong Kong by JAL's award travel, but there are some unexpendable mileages."
And Awards may be used by only the JMB Member and individuals designated by the Member ("Designated Users"), that is, Member's friends don't use awards under the JMB Rules and Conditions.
Another Soreyuke's member, Hiroko (

World Cup 2002 Korea-Japan - The parties with cheering the matches on TV) said in joke, "I would like to get married to him, and go to overseas by award travel."
By the way, if you would like to travel by his awards, please contact... Sorry, it's joke...
Miss Funatsu is living in Kansai district as well as him, will she also become a key member of the party of Soreyuke (Let's go) West?
Why did Miss Hirosawa wear sunglasses?
You always wear them when taking a picture, right?
---
---
We went to Po Lin Monastery in Lantau Island after lunch.
I think here is the most decent tourist attraction in Hong Kong.
As might be expected of a well-informationed in Hong Kong, Mr. Ishikawa has a good knowledge about it.
Miss Hirosawa, who loves to see historical places, also seemed to be satisfied.
How to get there by Hong Kong Walks (Hong Kong Tourism Board)
The hike begins near the Giant Buddha at Ngong Ping.
To reach Ngong Ping, you can travel on the MTR to Tung Chung station exit B, then take bus 23 from the adjacent bus terminus to Ngong Ping.
Alternatively, you can take a ferry (50 minutes) from the Outlying Islands Ferry Pier No. 6 to Mui Wo, then bus 2 to Ngong Ping.
Either bus trip takes about one hour.
Lantau Island could be reached by only ferry in former days, but accessible by an overland route now.
We went to Tung Chung, Lantau Island by MRT, and came back from Mui Wo to Central by ferry.
So we went back and forth between transfer places and Ngong Ping by bus, Tung Chung Valley area is designated as walking road by Tourism Board because there seems to be popular among nature lovers and hikers.
Of course it was enough for us to go up and down the stairs for the Giant Buddha.
Even then we took short breaks after seeing it, the hike would be heavy for us, right?
Therefore Octopus Card is very convenient for exploring in Hong Kong.
This is prepaid card: for example, in case of taking public transportation, small change is unnecessary.
In addition it can be used in convenience stores and so on, and AAVS (Automatic Add-Value Service) is available almost everywhere.
In case of leaving Hong Kong, the remaining value and the HK$50 refundable deposit will be refunded on request; if you keep the Octopus Card, it is valid for 3 years from the last add-value date.
---
Steamed Lobster with Cheese
(Chuk Yuen Seafood Restaurant)
Minced Squab (Pigeon) with Lettuce
(Chuk Yuen Seafood Restaurant)

The last of Soreyuke's gathering was a lavish dinner at Chuk Yuen Seafood Restaurant (address: Basement, Hong Kong Pacific Centre, 28 Hankow Road, Tsim Sha Tsui, Kowloon), where we spent for HK$250 (3,500 Yen) for each.
The restaurant's specialty is Steamed Lobster with Cheese, which looks like French cuisine because of eating with French bread.
So we also wanted to eat Roast Squab (Pigeon), but it was sold out.
Alternatively, we ordered Minced Squab (Pigeon) with Lettuce.
Talking about Chinese cuisine, we imagine being put many small plates on the table; however, these were heavy food.
Hence even I didn't eat any more.
Eating moderately is very important, right?

Would you like to ride a horse?
Hong Kong at night

Mr. Ishikawa and I went shopping and had ourselves massaged after Miss Hirosawa flew back home.
It seems to be entertainments for women, so I dind't do except such things because of leaving this evening.
He reserved to get a massage in Hong Tac Foot Reflexology Centre (address: Room203, Bo Yip Building, 6 Ashley Rood, Tsim Sha Tsui, Kawloon/ Tel: 2375-5689) through JCB Hong Kong, which is a member of QTSA/Quality Tourism Services Association.
Otherwise first visitors may hesitate to enter Hong Tac where is located in small multiple-tenant building though it is introduced on many Japan's guidebook.
I think if you get a massage, it would be better to go during exploring in the city or extra time before leaving.
So body massage is good for relaxing because of lying on the bed.
Chinese teas were available at Fook Ming Tong Tea Shop (address: The Landmark, 14 Des Voeux Road, Central).
There is in a good antique atmosphere in the shop; however, Mr. Ishikawa said "It may be difficult to stay for long time there."
So it would be better to enjoy drinking Chinese tea with chatting with master as well as Alishan, Taiwan, right?
A one of merit of this shop is close to the station, and if you have a credit card with Prime Club logotype on the reverse, you receive special discounts.
Therefore "Fook Ming Tong Tea Shop is a dreamland for the sophisticated tea shopper. You can get superb teas in beautifully designed tins or invest in some antique clay teaware. There are several locations in Hong Kong," according to Fodors.com.
We had a lunch at Luk Yu Tea House (address: 24-26 Stanley Street, Central) where Mr. Ishikawa suggested.
To our delight, there is Japanese menu, but he can speak Cantonese little, so I left everything.
The premises is antique: for example, the decor includes handsome, carved wooden doors, hardwood paneling, marble facings, and spittoons (which customers use with gusto); waiters dress in traditional Chinese uniform.
Fodors.com also says, "Morning dim sum is popular with Chinese business person, though the Cantonese fare is no better than standard. Reservations can be hard to get at peak hours (1 p.m. to 2 p.m.) unless you're a regular."
"It's reasonable to call to Japan from here by even mobile phone," said Mr. Ishikawa.
Of course he had it and suggest buying it to me.
I opened Hong Kong's bank account and became a member of Asia Miles, so when I make a trip for Asia Pacific region, I should fly via Hong Kong, right?
If I do so, it may be worth having a mobile phone and Japanese-Cantonese dictionary as well as him.