travel to Shikoku region in Japan in 2017
(ride Shikoku Man-naka Sen-nen Monogatari on July 28)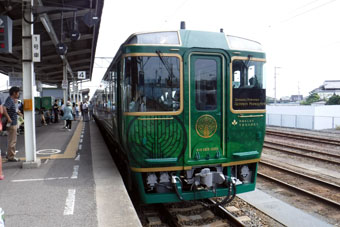 Date
Schedule
Lodging
7/27(Thu)
Yokohama 23:36-"Rapid Moonlight Nagara"-5:50+ Ogaki
(on the train)
28(Fri)
Ogaki 5:53-6:27 Maibara 6:59-"Shinkansen Hikari 491th"-8:24 Okayama 8:51-"Limited Express Nanpu 3th"-9:41 Tadotsu 10:21-"Limited Express Shikoku Man-naka Sen-nen Monogatari"-12:48 Oboke 12:52-13:18 Awa Ikeda 13:33-"Limited Express Tsurugisan 8th"-14:05 Anabuki
go swimming in Anabuki River
Anabuki 16:45-17:30 Awa Ikeda
Sushiroku
3,700JPY
(without meals)
29(Sat)
Awa-Ikeda 8:16-(Shikoku Kotsu Bus)-8:38 Awa Kawaguchi
White Water Rafting in Yoshino River by Big Smile
Awa Kawaguchi 13:48-(Shikoku Kotsu Bus)-14:02 Oboke Gorge
Oboke Sightseeing Boat Cruise
Oboke Gorge 15:02-(Shikoku Kotsu Bus)-15:30 Kazurabashi
(check-in at hotel)
Kazurabashi 16:10-(Shikoku Kotsu Bus)-16:18 Hikyo-no-yu
experience Hikyo-no-yu (hot spring)
Hikyo-no-yu 17:22-(Shikoku Kotsu Bus)-17:35 Kazurabashi
visit of Iya-no-Kazurabashi (Kazurabashi Bridge) and Biwa Waterfall
Iya Kanko Ryokan
7,500JPY
30(Sun)
exploring in Oku-Iya by Iyakei taxi (Nagoro Scarecrow Village, Double Vine Bridges)
Niju Kazurabashi 11:18-(Miyoshi City Bus)-11:50 Kubo 12:24-(Shikoku Kotsu Bus)-13:34 Oboke Station 13:51-"Limited Express Nanpu 9th"-14:42 Kochi 16:49-"Limited Express Nanpu 13th"-19:04 Sukumo
Akisawa Hotel
4,800JPY
(without meals)
31(Mon)
Sukumo 9:05-"Limited Express Nanpu 12th"-9:22 Nakamura 10:14-(Kochi Seinan Kotsu Bus)-11:59 Cape Ashizuri
visit of Cape Ashizuri and Hakusandomon Cave
Cape Ashizuri 13:12-(Kochi Seinan Kotsu Bus)-13:54 Ashizuri Hospital
lunch at Ashizuri Kuroshio Market
Ashizuri Hospital 14:43-(Kochi Seinan Kotsu Bus)-14:47 Shimizu Plaza Pal 14:49-(Kochi Seinan Kotsu Bus)-15:10 Kaiteikan (Ashizuri Underwater Observation Tower)
having bathe in Sakurahama Beach
Kaiteikan (Ashizuri Underwater Observation Tower) 18:13-(Kochi Seinan Kotsu Bus)-19:14 Sukumo
8/1(Tue)
Sukumo 8:00-(Kochi Seinan Kotsu Bus)-8:24 Fureai Park Otsuki 8:27-(Kochi Seinan Kotsu Bus)-8:57 Kashiwajima
having a bathe in Kashiwajima
Kashiwajima 12:31-(Kochi Seinan Kotsu Bus)-13:07 Fureai Park Otsuki 13:47-(Kochi Seinan Kotsu Bus)-14:11 Sukumo 14:34-15:04 Nakamura
go cycling along the Shimanto River
Nakamura 17:32-18:02 Sukumo
2(Wed)
Sukumo 9:05-"Limited Express Nanpu 12th"-11:06 Kochi
visit of Katsurahama Beach by MY Yu Bus
Kochi 18:15-All Nippon Airways(NH)570-19:40 Haneda
-
note
---
---
"Rapid Moonlight Nagara"

JR overnight train "Rapid Moonlight Nagara" is all reserved seat and operated during busy season such as school summer holidays. Hence, it's hard to take a reservation ticket on this train for foreigners. I suggest taking Shinkansen train to Kyoto and staying there, and then going to Shikoku region.

Yokohama Station
Hamamatsu Station
---
Ogaki Station
Maibara Station
---
"Limited Express Nanpu 3th" on Okayama Station
---
"Limited Express Shikoku Man-naka Sen-nen Monogatari"

Special Lunch is 5,500JPY. Advanced bookings required 4 days before departure at JR Ticket Offices (Midori-no Madoguchi).

Tadotsu Station
Tadotsu Station
Kotohira Station
Special Lunch: Sanuki Kodawari Shokuzai no Yofu Ryori
(Western-style dish set with select ingredients from the Sanuki region)
Tsubojiri Station
Tsubojiri Station
Tsubojiri Station
Yoshino River
Yoshino River
Awa Ikeda Station
Koboke Gorge
Koboke Gorge
---
"Limited Express Tsurugisan 8th" on Awa Ikeda Station
---
Anabuki River - Tenjin-no-se

This place can be accessed from Anabuki station by taxi for around 1,000JPY.
If you take Mima City Bus Anabuki-Koyadaira Line, you should get off Tenjin bus stop.
"Riverside Shide-no-ie" (Riverside Rest House) provides complimentary changing room, but without shower room for visitors.
Open daily between July 20 and end of August, weekends and public holidays in May, June, early July and September.
---
Anabuki Station
---
Mima City Bus Anabuki-Koyadaira Line and Kawakami-Mt. Tsurugi Line in 2017
(days of running)
**
*
daily
daily
(days of running)
daily
**
*
daily
Anabuki Station
8:20
-
12:15
17:20
Minokoshi (Mt. Tsurugi)
-
-
14:30
-
Tenjin (Tenjin Shoai)
8:28
-
12:23
17:28
Kawakami
arr.
-
-
15:00
-
Futamata (Futamata Shoal)
8:31
-
12:26
17:31
dep.
6:40
11:15
-
15:10
Sate (Kanjo Waterfall)
8:42
-
12:37
17:42
Takinomiya
6:49
11:24
-
15:19
Takinomiya
9:32
-
13:27
18:32
Sate (Kanjo Waterfall)
7:39
12:14
-
16:09
Kawakami
arr.
9:41
-
13:36
18:41
Futamata (Futamata Shoal)
7:50
12:25
-
16:20
dep.
-
10:00
-
-
Tenjin (Tenjin Shoai)
7:53
12:28
-
16:23
Minokoshi (Mt. Tsurugi)
-
10:30
-
-
Anabuki Station
8:01
12:36
-
16:31

*Buses run during Japan's Golden Week (Apr. 22 - May 7), during the school summer holiday (Jul. 15 - Aug. 31), and the autumn leaf viewing period (Oct. 14 - Nov. 5).
**Buses run on except Sundays, national holidays and from 30 December to January 3, 2018. However, they do run daily during the days of *buses running.
See also Miyoshi City Bus (English version: Tsurugi Mountain Bus Timetable)
---
---
[Go to the page of white water rafting in Yoshino River on July 29]
[Go to the page of exploring in Oku-Iya on July 30]
[Go to the page of exploring in Ashizuri and Tatsukushi on July 31]
[Go to the page of go swimming in Kashiwajima on August 1]
[Go to the page of visit of Katsurahama Beach on August 2]