travel to Shikoku region in Japan in 2017
(go swimming in Kashiwajima on August 1)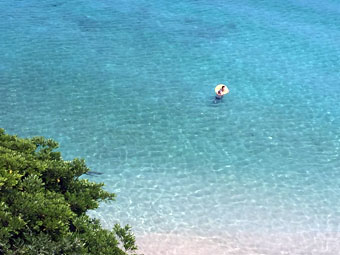 ---
8/1(Tue)
Sukumo 8:00-(Kochi Seinan Kotsu Bus)-8:24 Fureai Park Otsuki 8:27-(Kochi Seinan Kotsu Bus)-8:57 Kashiwajima
having a bathe in Kashiwajima
Kashiwajima 12:31-(Kochi Seinan Kotsu Bus)-13:07 Fureai Park Otsuki 13:47-(Kochi Seinan Kotsu Bus)-14:11 Sukumo 14:34-15:04 Nakamura
go cycling along the Shimanto River
Nakamura 17:32-18:02 Sukumo
related sites
---
Sukumo Station
---
Kochi Seinan Kotsu Bus Timetable (April to September 2017)
(days of running)
daily
weekdays
daily
weekdays
Sat. Sun. Hol
weekdays
weekdays
daily
except Sun. Hol.
daily
weekdays
Sukumo Station
8:00
-
10:50
-
-
14:03
-
16:11
-
18:07
-
Fureai Park Otsuki
8:24
8:27
11:18
11:50
12:23
14:31
14:33
16:35
16:38
18:31
19:03
Ryugahama Beach
↓
8:54
-
12:28
12:56
-
15:00
↓
17:11
↓
19:37
Shin-Ohashi Shirahama Beach
↓
8:55
-
12:29
12:57
-
15:01
↓
17:12
↓
19:38
Kashiwajima
↓
8:57
-
12:31
12:59
-
15:05
↓
17:14
↓
19:40
Shimizu Plaza Pal
9:18
-
-
-
-
-
-
17:34
-
19:25
-
---
Shirahama Beach, Kashiwajima

There are 3 beaches in Kashiwajima, Shirahama that is located before New Kashiwajima Ohashi Bridge, near Shin-Ohashi Shirahama Beach bus stop; Maehama that is located near Kashiwajima Ohashi Bridge; and Ushirohama that is located near the fishery harbor, Kashiwajima bus stop.
Maehama is suitable for snorkelling, Shirahama has exotic atmosphere of a southern land.
Public lavatories are located after New Kashiwajima Ohashi Bridge, and near Kashiwajima bus stop. However, there is NO shower facility and changing room in Shirahama.
If you go to the beach with sufficient facilities, it's advisable to go to Ryugahama beach camp site.
There are few restaurants in Kashiwajima, Uogokoro (tel: 0880-76-0077 open 11:30 a.m. to 3:00 p.m.) is recommended by some bloggers.
---
Kochi Seinan Kotsu Bus Timetable (April to September 2017)
(days of running)
weekdays
Sat. Sun. Hol.
daily
weekdays
daily
weekdays
Sat.
daily
weekdays
weekdays
Shimizu Plaza Pal
-
-
-
-
-
-
-
12:49
-
14:49
Kashiwajima
7:00
7:05
-
9:00
-
12:31
13:02
↓
15:06
↓
Shin-Ohashi Shirahama Beach
7:02
7:07
-
9:02
-
12:33
13:04
↓
15:08
↓
Ryugahama Beach
7:04
7:09
-
9:04
-
12:35
13:06
↓
15:10
↓
Fureai Park Otsuki
7:47
7:47
7:51
9:30
9:40
13:07
13:38
13:47
15:36
15:42
Sukumo Station
-
-
8:19
-
10:08
-
-
14:11
-
16:06
---
Fureai Park Otsuki
(tourist infrmation center of Otsuki Town, restaurant and souvenir shop)
---
Sukumo Station
---
---
Nakamura Station
---
---
[Go to the page of ride Shikoku Man-naka Sen-nen Monogatari on July 28]
[Go to the page of white water rafting in Yoshino River on July 29]
[Go to the page of exploring in Oku-Iya on July 30]
[Go to the page of exploring in Ashizuri and Tatsukushi on July 31]
[Go to the page of visit of Katsurahama Beach on August 2]